Halving energy use and doubling capacity brings sustainability benefits to NIMO's production
NIMO's new painting line is a success. The result has now been recognised in the industry magazine Ytforum as a great example of sustainable and innovative business development.
"The result was actually even better than we dared to hope," says Mikael Fröjdendahl, production manager for sheet metal and painting at NIMO.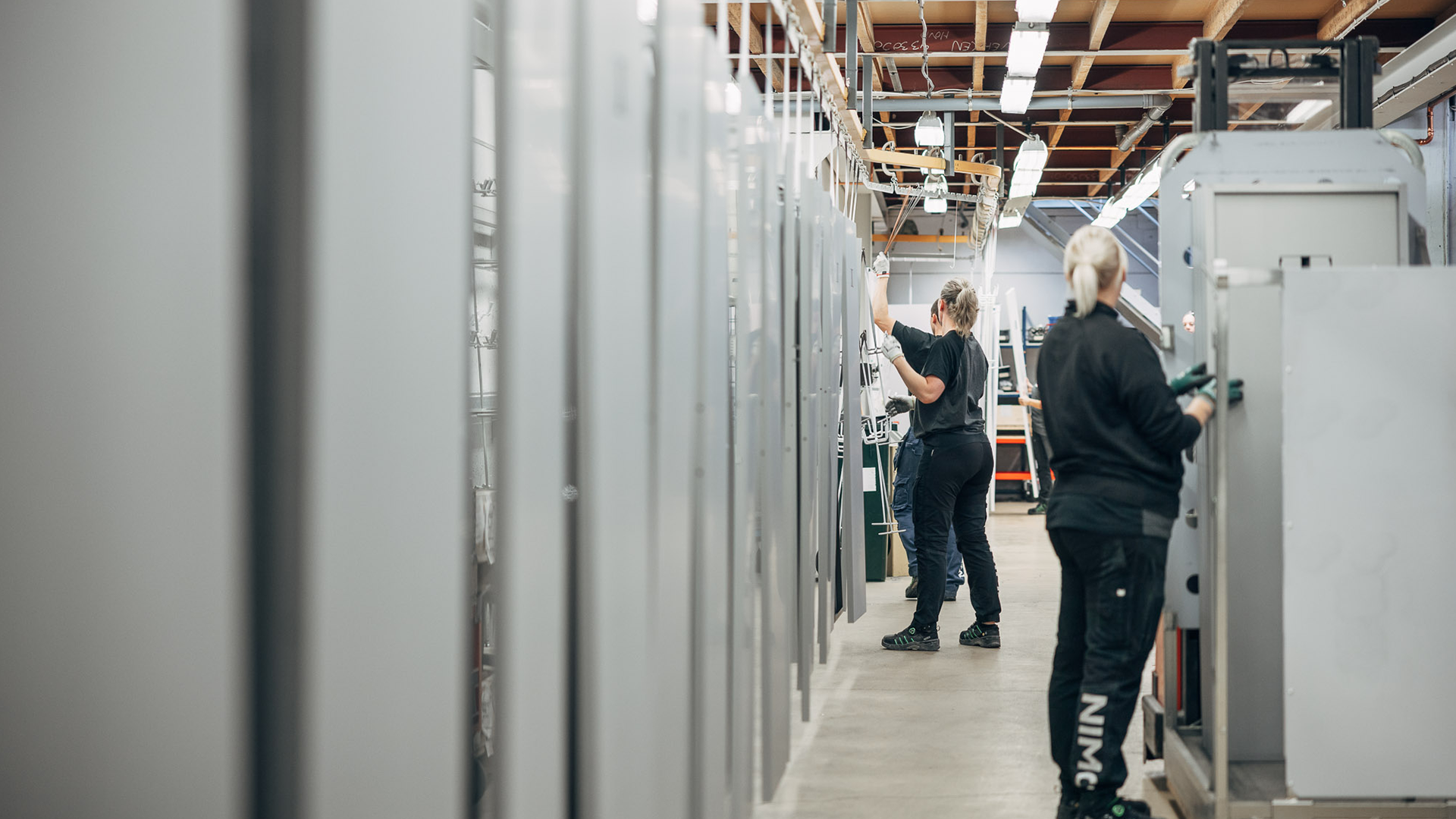 In NIMO's paint shop, parts for the drying cabinets and other products developed and assembled in the factory are powder-coated. By optimising the hanging technique, increasing the conveyer speed and new material preparation procedures, the number of painted items has been doubled, while energy consumption has been halved.
"Thanks to the optimisation, we can now paint twice as much in the same time and we have also gone from 2 shifts down to 1. This means that the doubled capacity has improved the working environment, as there are now more employees on the same shift."
As well as increased production capacity and halved energy consumption, the new production technology has enabled NIMO to reduce paint material consumption by 20 %.
"Today, the whole factory is in a better balance. "The feasibility study conducted in 2020 identified major opportunities to improve the processes and now NIMO is seeing the results," says Raymond Meyer, surface treatment consultant at Meyer and Hjort, who conducted the feasibility study and implementation.
Employee engagement and skills are a major contributing factor
When the results of the feasibility study were presented, there was some concern among employees that the optimisation would lead to a deterioration in the working environment. But it turned out to be the opposite.
"This is a major change. We are very proud of how well it was received by the employees, who quickly adopted new processes and procedures and thus contributed to the implementation going according to plan," says Mikael.
Optimising hanging techniques is key
Today, the new work processes are well established. With improved procedures for all parts and a well-functioning hanging technique, work runs smoothly throughout the chain and is less stressful than before. Optimising the hanging technique is a big part of the recipe for success.
"It is the hanging technique that is the key to success here. By optimising it, we can now paint twice as many articles as before. We also have a new measuring system, where we see in real time how the processes work and can adjust if necessary, and this provides both increased insight and higher commitment," says Mikael.
Read the article in Ytforum here.