Nimo promotes the Mimbox - innovation for more sustainable laundry
Cleantech company Mimbly launches a sustainable laundry product on the Swedish market. It goes by the name of 'Mimbox', an innovation that filters microplastics, reuses water used in laundry washing and reduces energy use. When combined with Nimo's dryers, the customer gets a climate-smart solution - from washing to drying.
"We want to make the washing process more sustainable. The product is designed to fit into people's lives, making it easier to do your laundry with less harm to the climate," says Robin Griffiths, Head of Sales and Business Development at Mimbly.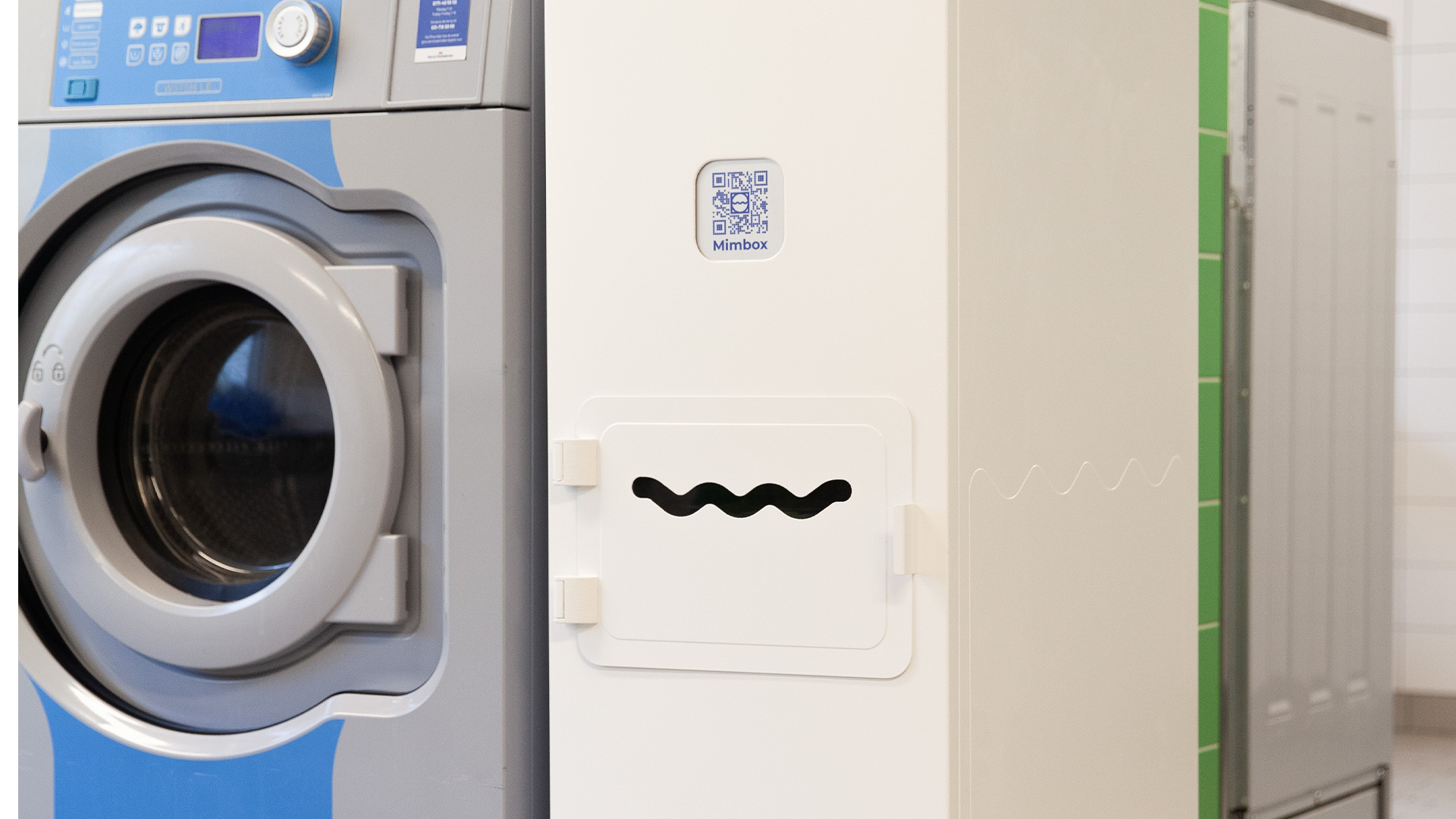 Global water consumption is increasing and large amounts of fresh water are being used, mismanaged and wasted. Laundry accounts for about 25 percent of total household water consumption in Europe. Every time clothes or textiles made of synthetic materials are washed, millions of microplastic fibres are released from washing machines and end up in rivers and oceans. In line with Nimo's sustainability concept for drying textiles, Mimbly wants to re-evaluate the way people use water, saving natural resources and reducing microplastic pollution caused by the clothes we wash.

"We're a young company with 13 employees focused on environmental and sustainability issues. With our eco-friendly innovation, the Mimbox, we want to make it easy for consumers to wash their laundry more sustainably. Mimbox means users can wash their laundry as usual, while reusing water and filtering microplastics is completely automatic," says Griffiths.

Mimbox is placed in laundry rooms and connected to washing machines. It collects the water used for washing and filters out microplastics. During the process, the Mimbox measures water quality to determine if it can be reused for the next wash. The same water can also retain heat from the previous wash, so it doesn't need to be heated to the same extent as the water taken from the tap.

"If the water doesn't achieve the required quality, it will be drained off. But if it is clean enough, it will be reused for the next wash. We have an antibacterial system that keeps water quality high. By keeping the water at a certain temperature, the energy used for heating is reduced and, consequently, CO2 emissions are reduced."

In the long run, Mimbly wants to increase the awareness and sales of the Mimbox. Robin also welcomes the fact that other innovators, working towards more sustainable textile and clothing management, are continuing to develop their products to help reduce their climate footprint.

"Our current focus is on our product and reaching out to the market. Drying clothes is not my area of expertise, but it is an important part of improving the management of textiles from a sustainability perspective."
Read more about Mimbly and the Mimbox here.