Hållbarhet, Miljö, Torka, Tvätta
How Sweden's most energy-efficient family does their laundry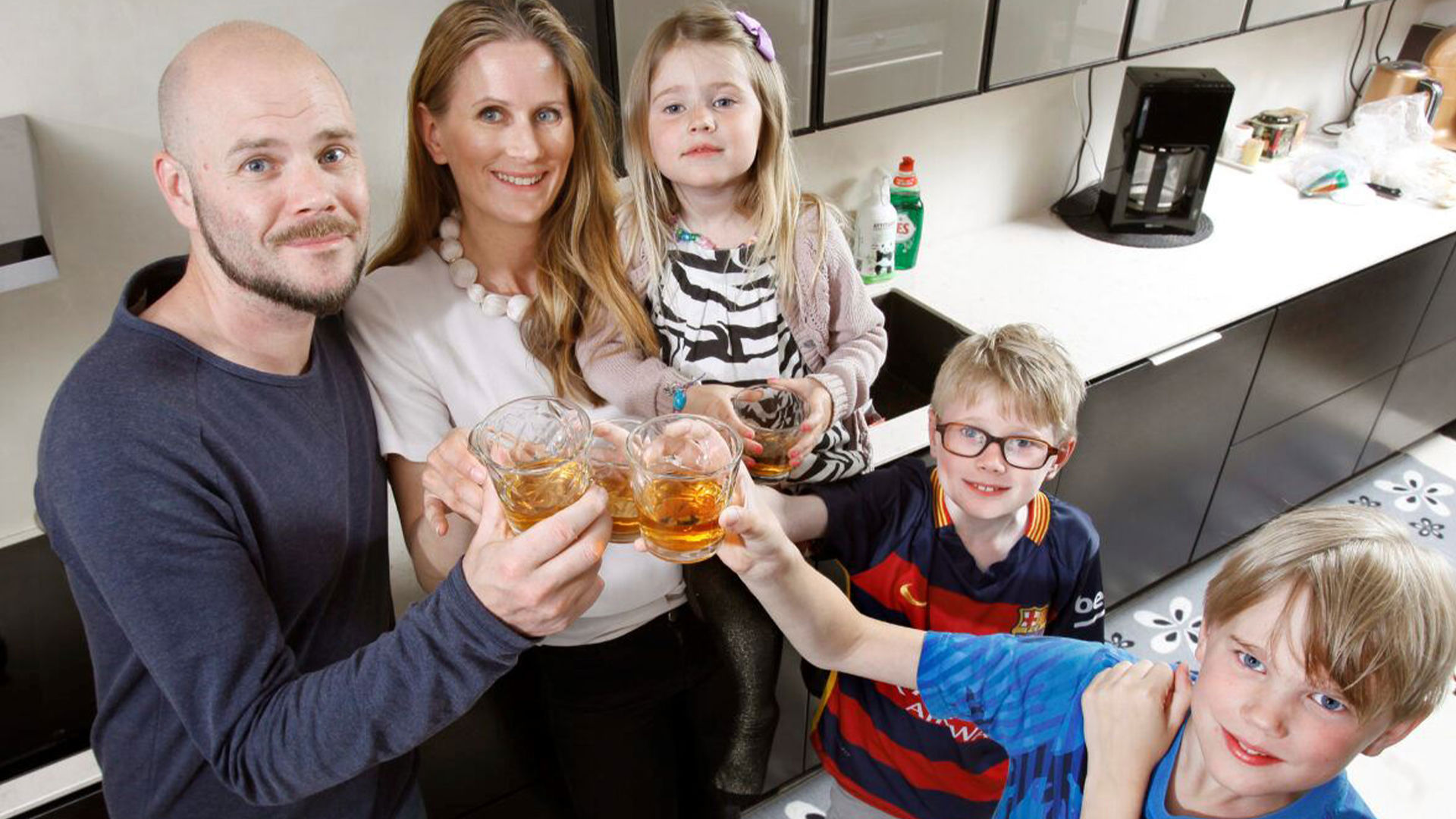 There's not much left from 1968 in the Hallström family's townhouse in Vallentuna, the year it was constructed. When the family moved in three years ago, an "Extreme ECO Makeover" was started with the aim of seeing how climate-smart and energy-efficient a Swedish family with children could live, by means of conscious decisions regarding everything from interior design and building materials to products and lifestyles.
Anders Hallström, the father of the family, has long worked with project development in sustainable building. Over the years, he has accumulated a lot of knowledge the environmentally friendly and energy-smart products and solutions that are available on the market. It sparked off an idea in Anders to completely renovate an old house as sustainably and energy-efficiently as possible.
"We see the project both as a comprehensive study, but also as an inspirational guide for others regarding what it's like to renovate and remodel one's home in order to live more sustainably."
The result is Eco Now House, a complete eco-house where sustainability comes first in every room, obviously also in your laundry room.
"The renovation of our laundry room was actually based on the same main requirements as the rest of the house - we chose equipment and furnishings based on what consumes the least energy. Then there's what's gentlest on your clothes, because the fabrication of clothes is also a huge energy and environmental aspect. The longer our clothes keep their quality, shape and size, the less we need to buy new ones."
36 kilos of laundry a week
In a family with three active children, there's a lot of washing and drying going on every week at the Hallström family's home. Anders estimates that he and his wife Marie spend two to three hours a week in their laundry room, with five to six machine washes. One main rule is that each machine needs to be full, and should only wash garments that are actually dirty.
"Every time the washing machine is started, it has to be filled with six kilos of dirty laundry. That's just how it is. I once read a study that showed that only seven percent of the clothes in an average Swedish laundry basket are actually dirty. This means a double loss, as each wash takes a lot of energy and unnecessarily wears the clothes out."
From the parents' finest attire to the children's winter overalls and rainwear. For a family with children, there's an immense variation in laundry needs, and it's also not easy to find time and space at the Hallström family's home. But having both drying cabinets and tumble dryers in your arsenal makes it easier.
"We run terry and socks in the tumble dryer. Everything else is hung to dry in our drying cabinet or outdoors during the warm parts of the year. The children's winter overalls and winter shoes were a nightmare before we got our drying cabinet, because they rarely need to be washed, but often need to be dried."
Every kWh counts
In the family's laundry room, we find a washing machine and tumble dryer, both of which have been energy-labelled A+++, which is the most energy efficient class in the energy labelling directive introduced in 2010. The laundry room also boasts a heat pump powered drying cabinet, which would also be included in the A+++ class if drying cabinets had such a label. The tumble dryer was bought when the family moved in, the washing machine was upgraded in 2015 and, in connection with the whole ECO renovation, the drying cabinet made the laundry room complete.
Previously, Anders and Marie only associated drying cabinets with preschools and kindergartens, but then the argument "you don't even need to start your drying cabinet for your laundry to be dry" started weighing heavily.
"We chose to get a drying cabinet during the renovation partly due to the fact that the model received an award from the Swedish Energy Agency for the most energy-efficient drying method, but the fact that it works even without electricity was just the jackpot. Hang your laundry overnight and you won't waste a single watt."
The Hallström family measures their energy consumption in real time through a sensor that's placed on the house's electricity metre and which sends information to Anders and Marie's mobile phones on the fly. They also have power metres on certain select products for seeing exactly how much energy each one uses.
"The renovation was finished at the beginning of November last year, so we've now lived in a complete ECO house for just over six months. It's incredibly educational to combine a project like this with a family life full of family feeding, football practices, laundry and everything else that it entails. We hope it'll inspire others to make more and more conscious decisions for their everyday life."